DETAIL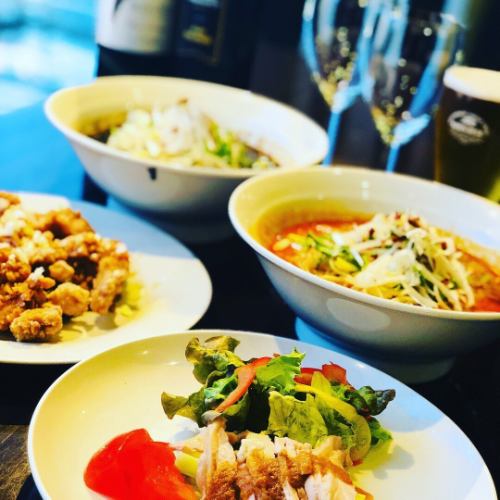 Cheap !! 【NEW】 Chobo Imaizumi Super Light Plan ★★ 3 dishes + 3H with unlimited drinks 1980 yen
3items

2persons

~

All-you-can-drink available

※ Friday and Saturday, the day before the conference will be two hours.
All-you-can-drink 3-hour dishes and snacks 2 comes with Tintin noodles!
Menu
◎ Great deals super light plan appeared! ◎
The dishes
☆ Banbanzi salad
☆ raised from Sichuan style
☆ Half Tintin noodles
For Tintin noodles you can choose white sesame or black sesame.
further!!
All-you-can-drink as many as 180 minutes!
(Fri, Sat, All you can drink for 90 minutes on the day before holiday)
All-you-can-drink menu
·beer
- Draft beer, Shandigafu
·Highball
· High Bowl, Cork High, Ginger High
·gin
· Gin tonic, Jin Ricky, Jim Buck
·vodka
· Vodka tonic, Moscommeureur, screwdriver
Lam
· Lamb tonic, rum coke, rum back
Cassis
· Cassis orange, cassis soda, cassis grape, cassis pine, cassis oolong
Peach
· Fuzzy group, Peach oolong
·mango
· Mango Orange, Mango Grapefruit
·Yogurt
· Apple Yogurt, Pine Yogurt
·wine
· Red Wine, Kitty, Carimocho White Wine, Operator, Splitza
- Non-alcoholic cocktail
· Saratoga cooler, Shirley Temple, Cinderella
·Soft drink
· Coke, ginger ale, orange, apple, grapefruit, pine, oolong tea
Reservation deadline

Visit of hope on the day until 21 pm
2018/06/08 update